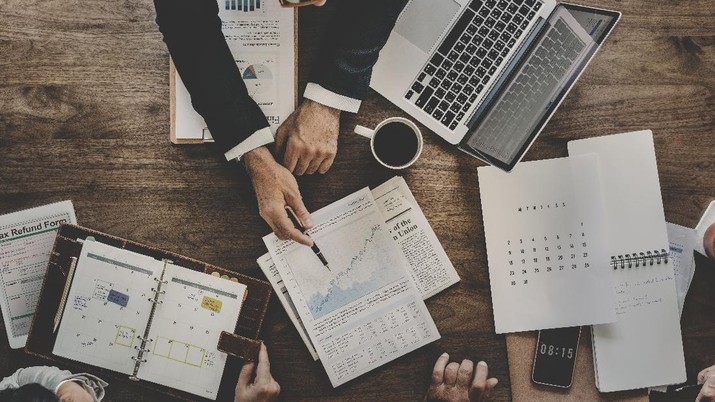 The pandemic is indeed challenging and in fact a very difficult momentum for the community, not only in Indonesia but also in the world. Not a few of our colleagues have lost their jobs, or even have difficulty eating.
However, for those who are still grateful to have a better way of life, of course they can be more economical and can set aside idle money in the midst of reduced spending from WFH or reduced gathering activities which are commonly called social snacks, aka hanging out.
So, from the small side to be grateful for from this pandemic, it's good for us to reflect on our investment activities.
Add Knowledge, Read, and Learn More
Have you ever heard of the failure to pay the Indosurya Savings and Loans Cooperative? Or have you ever heard of financial planner Jouska who is considered bad at transacting the securities accounts of his clients? Many variables in investment are influenced by one important thing, namely the ignorance factor.
In fact, many parties make the factor of ignorance as an entry point for fraud to robbery. Therefore, reading and studying our own first is the first thing to invest.
Can start with understanding our finances. Followed by understanding our needs. Then associated with our desires and ideals. And lastly is execution. For execution, it should also be necessary to study the background again where the funds were deposited.
"I hope to the public, this is a valuable lesson to be careful in investing whatever it is. And cross-check financial institution backgrounds many times," said a Jouska customer. Therefore, let's learn more about investing.
Portfolio Evaluation
For those who have already executed their investment intentions, now is the right time to look back at the pockets of our portfolios, both parked in the financial sector and in the real sector.
There is a decrease in asset value, and hopefully more assets will increase, making us need to reflect back on the original investment objectives. Especially with the pandemic, we also need to balance short-term needs that are currently priorities with the theme of investment that is far into the future.
The action, which is commonly called portfolio rebalancing, can certainly be a learning goal and improve personal quality in order to take advantage of the more free time during the adaptation of new habits (IMR) as it is felt now.
For the layman and the busy, look for the Full Online
For those who already have a capital market investment account, of course they don't want to have trouble opening another account if they are interested in promotions or advantages that have not been provided for the initial place to invest.
Opening a financial investment account, whether through a bank, securities, investment manager, mutual fund sales agent that is trusted, is certainly something that must be undertaken even though the process is long if it is done manually. The sheets of account opening forms that must be filled in will certainly tire potential investors.
In today's technology-filled era, "undoubtedly" financial investment institutions that lag behind in providing online account opening facilities will certainly find it difficult to compete with others. Because instead of filling out the manual form until it's finished, potential investors will usually be lazy at first and stop their intention of investing their funds so that it will bear fruit at a later date.
Don't get lazy just yet. In fact, not a few banks, securities, investment managers, or mutual fund sales agents have provided this online facility.
Just note that the four major banks, namely BCA, BRI, Bank Mandiri, and BNI, have started first and have allowed the opening of new accounts through the application. In fact, BNI customers who took advantage of their fast account opening facility, namely BNI Sonic, had 12,900 people by the end of 2019.
"BNI has BNI Sonic, just 3 minutes to open an account," said Giri Dwi Susanto, Deputy General Manager of the BNI Network Management Division, to CNBC Indonesia at the end of last year.
For securities companies, stock exchange records show that at least 14 securities have provided similar facilities, such as Indo Premier Sekuritas, Mandiri Sekuritas, Mirae Asset Sekuritas Indonesia, BCA Sekuritas, MNC Sekuritas, and BNI Sekuritas. Mandiri Sekuritas and MNC Sekuritas, for example, have even provided account opening services for up to 10 minutes.
Investment managers who have their own retail sales strategy also provide this online service first, along with fintechs that have been granted permission to sell mutual funds online by the OJK, commonly called Aperd Online, such as Bareksa, Tanamduit, Bibit, or Raiz.
Can be started from minimal, even micro
Previously, stocks and mutual funds were exclusive, because someone who could only get a noble title as a "capital market investor" must have a minimum fund of Rp. 10 million. However, over time, that value fell to Rp. 5 million, to Rp. 1 million, then to Rp. 100,000.
In fact, now there are financial institutions that have opened themselves up and are allowing new investors to invest funds starting from Rp. 10,000, which is commonly called microfinance investment. Principal Asset Management for example. They have opened the first door for mutual funds that can be purchased at micro value, smaller than the mini, which is IDR 10,000 since 2018, which other institutions have participated in.
Over time, there are more innovations for micro investment. Raiz Invest Indonesia for example. They have an investment feature called Round-Ups, which adopts the success of their parent company in Australia with micro-investments that also start from IDR 10,000.
This feature allows rounding off online transactions made by customers via internet banking registered by customers. For every banking transaction conducted by a customer, a rounding up will be made of the transaction value. The remaining funds that will later be raised to Rp 50,000 will be included in the investment by the customer through the Raiz application.
"This automation mechanism will make the customer investment process run automatically without having to routinely make transactions one by one," said Karmela M Kartodirdjo, Partnership and Marketing Manager of Raiz Invest, recently.
Look for Sustainable
Apart from using the micro method, investment during a pandemic is also recommended to be done gradually and regularly or continuously. Due to the current low trend in world interest rates, investing in stocks and equity funds is still an option for investors with long-term investment objectives.
"What we can suggest is that the purchase of [shares] should be carried out in stages which can be started from now on, because we already know how big the fiscal stimulus program will be," said the management of Eastspring Investments Indonesia in the Spring Letter bulletin last April.
So, who can knit a future with limited funds in this pandemic? Of course investors have thought of how to get there, and who are starting to make it happen. Little by little you can buy hills, right?